Dove Beauty Bar contains ¼ moisturizing cream to soften and smooth skin leaving it looking radiant.
Dove Bar contains no parabens or sulfate cleansers. It is also pH-balanced to help skin retain natural moisture rather than stripping it away – like other soap bars can. Made with a plant-based cleanser this white Beauty Bar even helps replenish nutrients lost during the cleansing process. Where ordinary women's bar soap can leave your skin feeling tight and rough, Dove leaves it feeling softer and more radiant looking. So give it a try – it might just make your morning.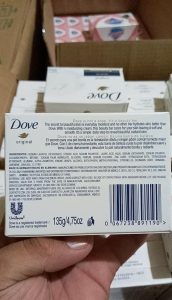 Sodium Lauroyl Isethionate, Stearic Acid, Lauric Acid, Sodium Oleate, Water (Eau), Sodium Isethionate, Sodium Stearate, Cocamidopropyl Betaine, Fragrance (Parfum), Sodium Laurate, Tetrasodium Etidronate, Tetrasodium EDTA, Sodium Chloride,
Kaolin or (ou) Titanium Dioxide.
• #1 Dermatologist recommended bar brand
• Dove bar effectively washes away dirt and germs
• Dove doesn't dry skin like ordinary soap can
• pH balanced and restores your skin's natural moisture levels
• Leaves dry skin softer, smoother and more radiant-looking
• Suitable for daily use on face, body and hands
• Nourishing dry skin Beauty Bar won't strip your skin like an ordinary bar soap can. It contains ¼ moisturizing cream, which replenishes your skin's nutrients and leaves even dry skin beautifully hydrated.
• Radiant skin Caring for your skin with every use, the unique formula of this Beauty Bar gives you soft, smooth skin that looks radiant before you've even stepped out of the shower.
• Gentle cleansing Looking for mild soap? This Dove bar won't dry your skin like an ordinary body soap bar can. It's made with gentle cleansers, so you can use it every day, on both your body and your face.
• Cruelty-free skin care Globally, Dove does not test on animals. Each Beauty Bar carries the PETA cruelty-free logo for added peace of mind.
Dove Bar Soap Supplier Europe | Dove Beauty Bar Soap Export