Fresh Royal Jelly For Sale
Royal jelly is a milky secretion produced by worker honeybees. It typically contains about 60% to 70% water, 12% to 15% proteins, 10% to 16% sugar, 3% to 6% fats, and 2% to 3% vitamins, salts, and amino acids.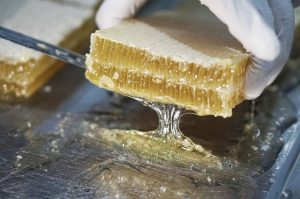 Fresh Royal Jelly For Sale
Royal jelly is harvested from the queen cells of beehives and sold as a supplement or in skin creams to enhance collagen production, ease premenstrual and postmenopausal symptoms, and improve overall health.
Royal Jelly is the Queen Bee's only source of food, which is thought to account for her longevity, size and ability to constantly reproduce. Given its nutrient-rich composition, Royal Jelly is used to help boost the immune system, ease menopausal symptoms, can help with fertility, aids with cognitive function, increase collagen levels, plus so much more!